Credit union members are enjoying ALL the conveniences and benefits of having our VISA Check/ATM Card! You can too! Pay at the pump, pay for groceries with a secure chip, access your funds FREE with over 28,000 ATMs nationwide, Get cash back with point of sale transactions - It's ALL available to you!
Plus, gain reward points with every purchase through uChoose Rewards. It's simple, LINCONE has one of the best Debit Card Programs in the area.
Contact a credit union representative to apply for your FREE VISA Check Card at
info@linconefcu.org
, (402) 441-3555 / (888) 790-7261, or visit either credit union location.
Customize Your Debit Card With Multiple Designs to Choose From!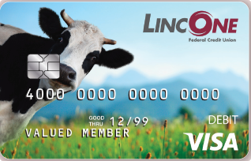 All cards at expiration will be reissued in the default LincOne Federal Credit Union design unless you notify us 90 days before your card expiration date. It is your responsibility to contact us on this. Replacement cards and instant issue cards are $10.00
Instant issue cards will need to be picked up at our 4638 W Street location. Instant issue cards will be available by the next day. New accounts will get to pick a design at no charge.
Go to main navigation